In 2005 SmarAct was founded as a spin-off of the University of Oldenburg. In the past 15 years, we have developed into a company with 200 highly skilled employees. It is every employee's motivation, commitment, and innovative spirit that makes SmarAct a little bit better every day. In our headquarters in Oldenburg, we cover the entire production process to ensure high product quality - Made in Germany.
With us you can contribute and evolve your skills in many different fields: We are regularly looking for new colleagues in areas as product and software development, design, mechanical and electronic production, assembly, purchasing, logistics, and for our central administration. In our careers section, we have put together some information about SmarAct. We are happy to assist you with any questions about working at SmarAct or job offers. Just get in touch with us.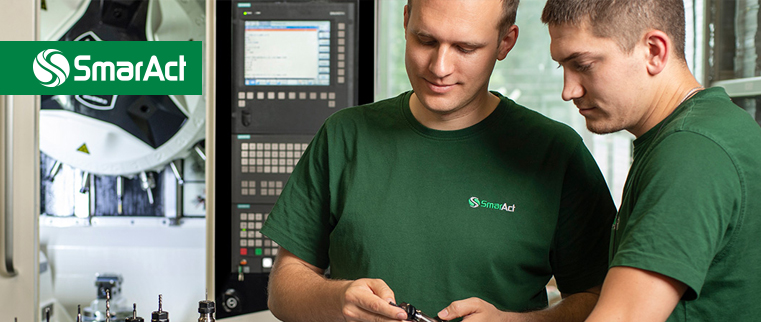 Wir produzieren Maschinen und entwickeln Fertigungsprozesse, bei denen es um höchste Präzision geht. Bauteile mit Abmessungen kleiner als ein Millimeter werden gehandhabt und zum Teil wesentlich genauer als ein Mikrometer ausgerichtet und gefügt. Gemeinsam mit dir möchten wir unsere Unternehmensgeschichte schreiben. Bringe dich mit deinen vielfältigen Talenten und deiner Motivation in unser erfolgreich wachsendes Unternehmen ein und sei bei der Entwicklung der SmarAct Automation auf einem zukunftsträchtigen Markt dabei.
Auszubildender zum Mechatroniker (m/w/d)
Aktuell suchen wir einen Auszubildenden zum Mechatroniker (m/w/d) zum 01.08.2023.
Das lernst du bei uns:
Das Lesen von technischen Zeichnungen, die mechanische Fertigung von Bauteilen und die Bedienung von CNC-Fräsmaschinen
Das Lesen von elektrischen und pneumatischen Schaltplänen und den Bau von Schaltschränken
Das Programmieren von Steuerungen und Reglern
Das Entwerfen von mechatronischen Systemen und die Montage von Fertigungsanlagen
Die Inbetriebnahme, Wartung und Instandhaltung von Anlagen
Das bringst du mit:
Du schraubst gerne herum und interessierst dich für Technik
Zu deinen Stärken zählen, dass du motiviert bist und mitdenkst
Du hast einen Realschulabschluss mit guten Noten in Mathe/Physik/Technik/Informatik
Sehr gute Deutsch- und gute Englischkenntnisse in Wort und Schrift sind für dich kein Problem
Wir bieten:
Flexible Arbeitszeit
Gute Entwicklungsmöglichkeiten
Firmenevents
Betriebliche Altersvorsorge
Hansefit
Obst/ Getränke
Gutscheinkarte
Du kannst nicht alle Punkte erfüllen? Kein Problem, denn bei uns steht der Mensch und die Persönlichkeit an erster Stelle. Daher freuen wir uns über deine Bewerbung.
Haben wir Dein Interesse geweckt?

Dann freuen wir uns auf Deine Bewerbung (Anschreiben, Lebenslauf und Zeugnisse als PDF-Dateien). Bitte bewirb dich über unser kurzes Online-Formular über die untenstehende Schaltfläche "Jetzt bewerben".